Reasons for losing Forex Currency Trading may not be known for traders, or they may think that these reasons don't lead to loss in forex. In this article, we will introduce reasons for loss in forex currency trading
Reasons for losing Forex Currency Trading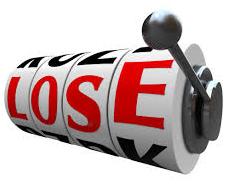 Repeated login in the same trading day:
When you determine a short target by a certain number of pips, with a believable percentage for stop- losing, you can achieve a lot of hundred dollars. But, avoid the repeated login in the same trading day, because you will be exposed to a bigger loss.
Login in a large number of deals at once:
You should avoid risk by opening a lot of deals with a lot of contracts and a small capital. Your analysis may be not accurate, so you may loss your entire wallet and exposed to a very quick decline.
Depending on the others in making- decision:
Professional dealers makes decisions by themselves, they don't depend on the others in making- decisions. You may be trading or ask others to trade for you.
The wrong usage for stop- loss order:
Putting stop- loss orders near market price made it applicable at any time by the broker. The order is activated when it reaches to the pip that you determined.
Trading during stop hours:
There are separating hours between Asia, Europe, and USA official markets. Banks and huge investments funds benefit from these hours. They pay prices where they want their deals contract in, and there aren't a lot of dealers, small traders and beginners may be a victim of these deals as they cling in contracts that are out of the true market prices.
Deal without previous planning:
Most traders make deals for gaining profit. How can a trader deal? or what is his plan for trading? What strategy is trading depend on? If you haven't a plan, you will lose. 95% of losers, get away from market because they have no plan for trading.
Trading against the market trend:
There is a difference between purchase with a low price before market rise, and purchase with the same price during market decline. In the first condition, you have good profits, in the second condition your purchase price is the highest price. Remember, don't buy any deal when market is declining. Never sell when market is rising. Both conditions lead to for losing in forex.
Determine a wrong time to go away from market:
If you start a deal, and market was against your trend, make sure to go away from market at the right time. Don't try to risk through doubling your loss. If market is moving in the right trend, don't persuade yourself to go away quickly because you are tired. You should deal with your tired as it is a part of your work. Don't be greedy, and you should choose the right time to go away from the market.
Insisting on purchase with the lowest price and selling with the highest one:
You can't insist on purchase with the lowest price and selling with the highest one, this is greediness. Being greedy is your first enemy. Make sure that the price may far from you and may not return another time.
Trading on an emotional basis:
When your trading is depending on an emotional basis, not on ideas or right information, you may lose in your trade. Emotions consist a poor rule in forex currency trading. Remember that good and important things in life can't be done according to our emotions and this may lead you to lose in forex.
These are some of Reasons for losing Forex Currency Trading
If the article is useful for you please share it by the icons of social media from the top of the page to benefit everyone.
And if you have any inquiry about Reasons for losing Forex Currency Trading please feel free to write it in the comments box and we will reply as soon as we can, Thanks.