Forex  basic terms
You should know that Forex currency trading market is like other markets. It has a basic terms that should be known and completely and correctly understood. In this educational article; you will learn the most common basic terms in  Forex market currency trading.
Forex  basic terms
Currencies pairs and the price of buying and selling
In foreign exchange, there are always currencies pairs. Currencies pairs are major currencies and corresponding currencies. Forex agent buys and sells major currency as shown below.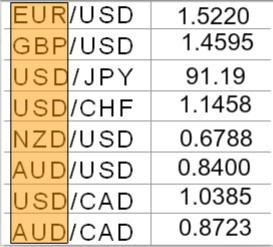 Corresponding currency is a mean of payment that is shown below.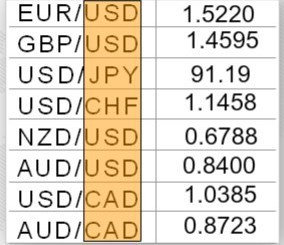 Currency price is the price of monetary unit of one of major units according to changing currency rate. For example; a pair of Euro versus U.S dollar is one euro = 1.5220 U.S dollar.
Spread:
Spread is the difference between purchase price, selling price and commission you pay as a currency dealer. If you change U.S dollar to Euro in a bank, you will find that purchase price is 1.56, and selling price is 1.49. if you pay 1000 dollar you will get 641 Euro, but; if you pay 641 Euro you will get 955 dollar. Where is the remaining 45 dollar gone?.
This is the only commission that is paid which is called Spread " the difference between buying and selling".
Pips:
The value of  pip equals size of the deal divided by 10000. Value of the pip is found in the fourth number after decimal point, in the most of currencies pairs. In trading on Japanese yen; it is different, as it found in the second number after decimal point.
If dollar exchange rate versus euro is 1.5220 the pip is number 0 the fourth number after decimal point. If it rose by one pip, it will be 1.5221.
In Japanese yen; if dollar exchange rate versus Japanese yen is 88.57 the pip is number 7 the second number after decimal point. If it rose by one pip, it will be 88.58.
This part of Forex basic terms
If the article is useful for you please share it by the icons of social media from the top of the page to benefit everyone.
And if you have any inquiry about Forex  basic terms please feel free to write it in the comments box and we'll get back and publish it, thanks